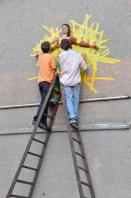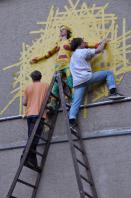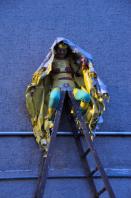 Liebe Ladina,
Deine Performance war unglaublich traurig schön und berührend einfach. Mir fehlen die Worte- wie Du da in luftiger Höhe mit verbissener Ernsthaftigkeit, und gebanntem, schnurgeradeausgerichtetem Blick, das Geschehen und bunte Treiben unter Dir nur aus der Ferne wahrgenommen hast, Dich komplett in Deine Aufgabe emerceriert hast. Die Anspannung die von Deiner Konzentration, und auch der Anstrengung ausging, war im ganzen Rund des Hof's am Ostquai spürbar, in der Form einer statisch, elektrischen Ladung. Man konnte nicht anders, als unweigerlich den Kopf immer wieder auf Dich und Deine beiden Helfer zu recken, mit im Gespräch, Du warst der magische Blickpunkt, wie im Auge einer Zielscheibe hast Du sie aufgesogen.
Die im Untergehen am Horizont, zwischen alten Industrieanlagen hindurch, einem gelegentlichen, verwitterten Gerüst eines Hafenkran's und ähnlichen Zeugen einer längst vergangenen Epoche der Industriealisierung, begriffene Sonne, die zu Beginn Deiner Aktion noch leicht fahle, soja-creme-gelbe Sonne, die dann mit fortschreitender Zeit, sich allmählich in einen glutroten Ball verwandelte, und die Schatten des Skelett's einer dieser Hafenkräne auf die Wand unter Dir zauberte, so sinnlich war dieses Spektaktel, dass die Erlösung letztlich, durch das sich anreissende Band, das loslösen unter Deinem Gewicht nur die konsequente Fortsetzung dieser in sich sehr kunstvollen, aber sanfter Betonung umgesetzt worden war.
Persönlich fand Ich sehr schön, wie die ausgebreiteten Arme Deiner Helfer, sowie die deren eigene Extremitäten, diesen kreisrunde Radius, Mass aller Dinge (auf Armlänge) mit dem gelben Klebband, einer Korona nicht unähnlich zu beschreiben begann, bis keine Leerstelle mehr vorhanden war, das Mass an Spannung übervoll wurde. Und wie herrlich, Dir zuzuschauen in dem ersten Augenblick als Du noch hoch oben auf der Bockleiter sassest, mit einem Spiegelei auf dem Rücken das Batman neidisch gemacht hätte, und es scheinte so, nein ich denke so war es auch, Du konntest Dich kaum rühren vor lauter Klebrigkeit und Gefühllosigkeit in Armen und Beinen von dem stundenlangen Ausharren. Auf englisch heisst Spiegelei im übrigen, sunny-side up. Die Farbe gelb, war definitiv eine der durchgehend dominierenden Komponenten dieses Abends und wir werden gleich sehen, wie das Thema vom nächsten Rezipienten, Martin Chramosta's Stück "Risotto" der Faden wiederaufgegriffen wurde und direkt weitergesponnen.
Daniel Marti
How to let yourself get stuck to a wall and survive...
Heavy–duty yellow tape is used to stick the artist high on a wall. Why? Why not. An experiment, an attempt at the impossible all speak of a challenge for the artist. For this she requires a team and very strong tape for a potentially dangerous exercise. A high and very unstable ladder is used as support. The crowd slowly gathers in the courtyard to see the development. Patiently everybody looks up to the image of the artist spread out like a figure from Leonardo's famous "Vitruvian Man" (citing the universality of man represented by the perfect proportions of the body in harmony with the universe). Instead of a man we have here a woman. All kinds of symbolism are suggested by this spectacle. She looks to me like a Joan of Arc with her short cropped hair, a sacrifice, some say a religious symbol, maybe even a crucifixion? So much for the symbolic, with patience we see how her two assistants struggle to very carefully spread the load of her body on the strands of tape. They stretch and press in a diagonal strategic order and tape around and over her body. A visual pattern of yellow lines radiates from her giving a special look matching all the symbolic speculation. I notice that the wall is very rough and can imagine that the tape cannot hold well. It is a question of time when the tape will fail to grip the wall and then, the consequences. She remains calm through out this daring performance but for sure full of adrenalin from the risk. Finally after it starts to get dark and cooler the tape stripes have turned into a sort of sheet, they come off the wall and people gasp (including me) and luckily, supported by the ladder she is able to hold herself to it and the "sheet" falls over her like a cape. We now see a sort of Madonna in front of our eyes. Wow!
Carlos Varela
ACT Aarau

ACT Basel

ACT Bern

ACT Geneve

ACT Genève

ACT Luzern

ACT ON

ACT Sierre

ACT Zürich
2018

2017

2016

2015

2014

2013

2012

2011

2010

2009

2008

2007

2006

2005

2004

2003